Ruby was diagnosed with advanced stage osteosarcoma and a bone fracture on April 15, 2013. She'd been suffering from what the vet thought was arthritis and hip dysplasia for about a month. Her suffering ended on April 16, 2013. She's gone to a happy place in the sky.
She was loved and will be missed by many. She is survived by her older sister, Sage; owners', Mike, Zack, and Garrett; and many close friends and family members.
We got Ruby in September 2005 from Wayside Waifs, she was 2-years old and had been giving up by her family for reasons which were unclear. We quickly noticed after bringing her home that she suffered from separation anxiety. In the first week we crated her while away, as we've done with previous dogs. Upon our return we found the bottom hard plastic of the crate was shredded into tiny pieces. Luckily, she wasn't injured and didn't seem to suffer any health problems after this. We soon discovered she was a well-behaved and house trained dog and the crate wasn't needed. Sage, our other black lab was quite thrilled about this, because it meant they could roam free while we were away.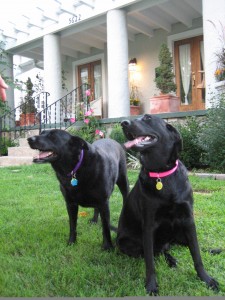 Making the decision to have Ruby put to sleep was one of the hardest decisions of our lives. I'm glad she had two other dads to help understand her diagnosis and make the right decision for her.  We took Sage, our other black lab with us to have her put to sleep, so she didn't constantly wonder when Ruby was coming back home. After returning home, you can tell that Sage knows something is wrong and she is upset. We're trying to maintain composure around her, because dogs pick up much of their feelings from the mood and people around them.
Memories of Ruby
I remember waking up and showering, then returning to my room where Ruby would be sprawled out across the queen-size bed. She had such an innocent look on her face and just gave me the proudest look while wagging her tail. She wasn't usually allowed on the bed, but there was no way I could make her get down. -Garrett
It was the click of Zack switching the bathroom light off which alerted Ruby that Zack was heading downstairs to let her out. Followed by breakfast, then sneaking back upstairs to cuddle with me until I got up. –Mike