Kansas City Bike to Work Day is Friday, May 18, 2012.
I live in the Waldo neighborhood of Kansas City and work in Leawood. I'll be coordinating a Bike to Work Day 2012 event for those in Waldo/Brookside neighborhoods who work in Leawood or South Kansas City. You can be an existing bike commuters or looking to discover the benefits of biking to work. Details to come.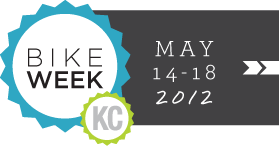 May 14 – Bike Week Opening Ceremony
May 15 – Beginners and Family Day
May 16 – Ride of Silence
May 17 – Bike In Movie
May 18 – Bike To Work Day
May is National Bike Month, brought to you by League of American Cyclists.